Dr. Robert P. Franklin, DVM Dip ACVIM
Dr. Franklin, Board certified in Veterinary Internal Medicine, provides consultations to the doctors at San Luis Rey Equine Hospital. Dr. Franklin is from the Texas Hill Country. He studied Equine Science at Colorado State University and acquired his DVM from Texas A&M University in 1999. He performed a private practice internship in Southern California before beginning his internal medicine residency at the University of Florida. Dr. Franklin has been a Diplomate of the American College of Veterinary Internal Medicine since 2003.
Rob has established and managed intensive care units in several equine referral hospitals including Angus McKinnon's Goulburn Valley Equine Hospital in Australia, Equine Medical Center of Ocala, Florida and most recently at Weatherford Equine Medical Center in Texas.
Dr. Franklin has served as a founder and President of the Texas Equine Veterinary Association (TEVA), a founding director of the Equitarian Initiative, a director of the Florida Association of Equine Practitioners (FAEP), President of the Marion Veterinary Medical Association, a director of the Ocala Equine Conference. He currently serves as a Director for the American Association of Equine Practitioners (AAEP).
He has published numerous book chapters, peer-reviewed journal articles and lay articles. Rob has also presented at local, national and international continuing education meetings and was recently invited to give the medicine lectures at the AAEP resort symposium in Kauai in 2012.
Most importantly, Dr. Franklin is happily married to his high school sweetheart, Laurie and has 2 young daughters, Bree and Colbie. He is a practicing Christian and has a heart for supporting working equids through opportunities created with his nutritional supplement company, FullBucket, and its giving partner, World Horse Welfare.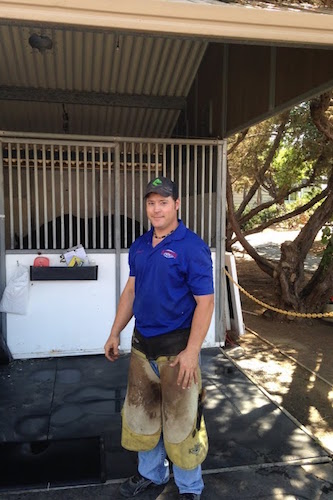 Jason Job
After our doctors run diagnostics and assess sports medicine and lameness cases, Jason will work in conjunction with them to determine the best shoeing and hoof care options for your horse. We are proud to have his expertise available as we use him for all of our farrier needs at the hospital. With over 18 years of experience, he services all of northern and southern San Diego county, and has a trusted reputation and strong following.
Education:
Degree in Equine Health & Science
Certified Journeyman Farrier
Member of the American Farriers Association
Awards:
Reserved National Championship Blacksmith
Won Open Division Live Shoeing Contest (San Diego Farriers Assoc.)
Won 6 National Best Shod Foot Awards…many more!